"Communicative" for Flag Raising Ceremony
学生之间交流有利于共同进步,教师之间交流有利于优化教学质量,家校之间交流有利于孩子成长,学校与外界之间交流,能给孩子们提供更优质的资源锻炼能力,以及会有更多的发展方向。

Communication among students is beneficial to common progress; communication among teachers is conducive to higher teaching quality; communication between school and parents is favorable to the growth of children; communication between school and the outside world can provide children with better resources to exercise abilities, and more development directions.

升旗手

Flag Raiser
叶宇泽 Carlos(G2)
演讲者

Speakers
张家瑜 Lisa(G2)
沙睿冬 Sheldon(G2)
护旗手
Flag Bearers
马予泽 Eric(G3)
许瀚文 Haven(G3)
李希言 Ethan(G4)
刘卿萩 Phoebe(G3)
主持人
Host
曹心语 Sylvie(G3)
Raise the national flag,
and sing the national anthem.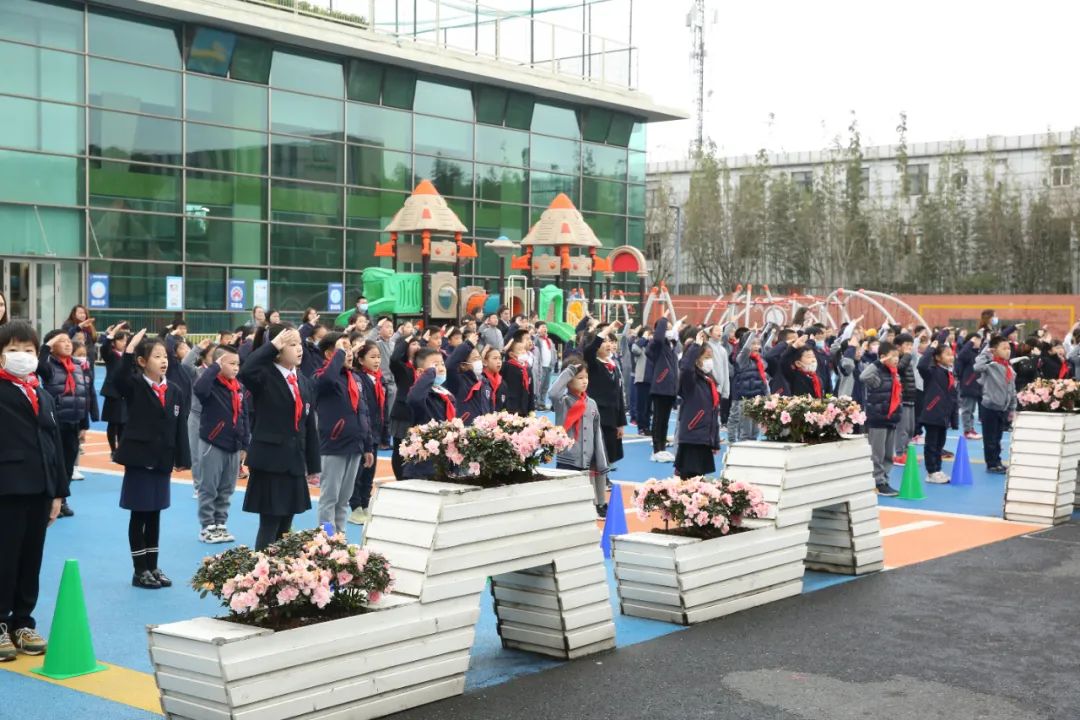 Let's see how students think
about the "Communicative".
▲作为一名小学二年级的学生,我们每天最主要面对的是父母、家人、老师和同学们,我们要怎样跟他们交流呢?也许你没思考过,也许你已经做得很好。
As students in the second grade of primary school, we mainly face parents, other family members, teachers, and classmates every day. How do we communicate with them? Maybe you haven't thought about it, or maybe you have already done it very well.

▲首先与父母家人的交流,也许你没有感觉,也许你觉得很舒服,也许又有某几个点不喜欢。因为家人都视我们为掌中宝,什么都依从我们,随我们性子做事。更多是家人的包容,所以不管我们说什么做什么,他们都好像义无反顾的支持,交流非常愉快。也许在学习这一点上大部分家庭就不愉快了吧,为什么这样呢?那是我没有巧妙地说和认真地听,就是没有很好的交流,如果父母视孩子如掌中宝一样听孩子说学习问题,去帮助我们解决问题,孩子要像尊重老师一样听父母说怎样学习,交流就会畅通无阻了。

First, when communicating with your parents and other family members, maybe you have no special feeling, or maybe you feel comfortable, or maybe there are some points that bother you. Because families regard us as the apple of their eyes, they follow us in everything and deal with things depending on our mind. Due to the tolerance of the families, no matter what we say or do, they seem to support us without hesitation, and the communication with them is very pleasant. Perhaps most families are unhappy when it comes to learning. Why? That's because we didn't speak skillfully and listen carefully, which leads to the poor communication. If parents also treat their children as the apple of their eyes when they listen to their children's learning problems and help them solve the problems, and if children respect their parents as teachers when they listen to their parents' advice on how to learn, their communication will be unimpeded.

▲其次是跟老师交流,老师面对的是全班同学,他们需要教会我们许多知识,所以我们在接受知识时需要倾听思考,少说话,保持好课堂纪律,不能毫无顾忌地说话,影响老师情绪,我们需要愉悦舒适的课堂环境。在老师需要我们讨论和回答问题时,再有序地交流探讨。

Second, the communication with teachers shall be emphasized. Teachers are facing the whole class. They need to teach us a lot of knowledge. Therefore, when learning knowledge, we need to listen and think more, talk less, maintain good classroom discipline, and cannot speak without scruples, which will affect teachers' mood. We need a pleasant and comfortable classroom environment. When teachers need us to discuss and answer questions, we can communicate with each other in an orderly manner.

▲最后是跟同学的交流,这也是我们离开父母,自主交流的机会,我们在一起学习玩耍,在学习上要相互帮助,互相鼓励,相互赞赏,玩耍时多找些共同的话题。遇到矛盾时要积极交流,解决矛盾,对同学要真诚热情主动,愿我们能通过愉快交流,结交越来越多的好朋友。

At last, communication with your classmates shall also be focused. This is also an opportunity for us to leave our parents and communicate independently. We learn and play together. We should help, encourage, and appreciate each other in the study process and can find more common topics in playing time. When we are confronted with conflicts, we must actively communicate with each other to solve them. In addition, we shall be sincere, enthusiastic, and proactive to our classmates. I hope we can make more and more good friends through pleasant communication.

▲与人交往首先是尊重,说话要考虑别人的感受。俗话说:"良言一句三春暖,恶语伤人六月寒。"小伙伴比赛输了,一句"别气馁,你的表现很棒"让人就算在寒冷的冬天也觉得温暖,但一句嘲笑就算身处暑气正盛的六月,也会让人觉得心中冰冷。尊重别人,说话就会考虑对方的感受。

Respect is the priority in the interaction with people, so we should consider the feeling of others when we speak. As the saying goes, "One kind word makes you warm in the cold winter, while one bad word makes you cold in the hot summer." When your partners lose the game, the words "Don't be discouraged. You did a great job." will make them feel warm even in the cold winter, but words of ridicule will make them feel cold even in the hot summer in June. When we respect others, we will consider the feelings of others when we speak.

▲古有孔融让梨,这是尊敬兄长;有程门立雪,这是尊敬师长;有高山流水,这是朋友互敬互爱。中华民族是礼仪之邦,尊重是一种传统美德。我们小伙伴间交往,也要学会互相尊重。

In ancient times, Kong Rong sharing pears showed the respect for his brothers. Yang Shi standing in the snow to wait upon Master Cheng respectfully showed the respect for the teacher. Zhong Ziqi appreciating the scene of high mountains and running water from Yu Boya's zither music showed the respect and love for friends. The Chinese nation is a nation of etiquette, and respect is a traditional virtue. We also should learn to respect each other when we communicate with our friends.

▲与人交往离不开沟通,要学会倾听。借课外书上的一句话说:"你有一个苹果,我有一个苹果,交换后每人都有一个苹果;我有一个想法,你有一个想法,彼此交换,每人就有了两个想法。""三人行必有我师"也有这个意思。

Communication cannot be separated from interacting with people, so we should learn to listen. As a sentence from an extracurricular book read, "If you have an apple and I have an apple, then we all have an apple after exchanging with each other. But if you have an idea and I have an idea, we all have two ideas after exchanging with each other." The old saying "If three of us are walking together, at least one is good enough to be my teacher." also has the same meaning.

▲有的同学滑板很厉害,有的同学是游泳健将,有的同学知道很多历史故事,也有的同学去过很多地方,每个人都有优点,都有各自擅长的方面。

Some students are good at skateboarding. Some are excellent swimmers. Some know a lot of historical stories, and some have visited many places. Everyone has his own strengths and his own areas of expertise.

▲所以我很喜欢和小伙伴一起聊天游戏,我学会了制作飞得很远的纸飞机,学会了百家姓,了解了很多历史知识,也把我喜爱的太阳系知识分享给小伙伴们。

Therefore, I really like chatting and playing games with my friends. In this process, I have learned how to make paper airplanes that can fly far away. I have learned a lot of family names. I have learned a lot of historical knowledge. I also shared my favorite solar system knowledge with my friends.

▲世界上这么多人,同学、朋友是有缘分才会相遇,应该加倍珍惜。同学之间相处难免会产生小摩擦,所以与人相处我觉得还需要宽容。每个小伙伴都有自己的脾气,每个人看待问题都有自己的想法,不能要求别人做什么事情都要跟自己一样。大山的回声也告诉我们,我们如何对待别人,别人就会怎样对待我们自己。

There are so many people in the world, and it is because of the fate that we can meet our classmates and friends, so we should cherish them. It is inevitable that there will be small frictions when getting along with classmates, so I think we need be tolerant when getting along with others. Everyone has his own temper, and everyone has his own thoughts on problems. We can't ask others to do things the same as us. Mountains' echo also tells us that others will treat us as we do to them.